Nato chief Jens Stoltenberg has defiantly declared that Ukraine deserves to join the military alliance and pledged continuing support for the country on his first visit to Kyiv since Russia's invasion just over a year ago.
Ukrainian president Volodymyr Zelensky urged Mr Stoltenberg, who has been instrumental in marshalling support from Nato's members, to push for even more from them, including warplanes, artillery and armoured vehicles.
The Kremlin has given various justifications for going to war, but repeated on Thursday that preventing Ukraine from joining Nato was a key goal behind its invasion, arguing that Kyiv's membership in the alliance would pose an existential threat to Russia.
Nato leaders said in 2008 that Ukraine would join the alliance one day, and Mr Stoltenberg has repeated that promise throughout the course of the war – though the organisation has established no pathway or timetable for membership.
"Let me be clear, Ukraine's rightful place is in the Euro-Atlantic family," Mr Stoltenberg told a press conference.
"Ukraine's rightful place is in Nato."
Mr Zelensky said he was grateful for an invitation to a Nato summit in July in Vilnius, Lithuania, but said his country needs a road map for becoming a member.
"The time has come for the (alliance's) leaders to define the prospects of Ukraine's acquisition of Nato membership, to define the algorithm of Ukraine's movement towards this goal, and to define security guarantees for our state for the period of such movement – that is, for the period before Nato membership," he said.
Mr Stoltenberg said he and Mr Zelensky discussed a Nato support programme.
"This will help you transition from Soviet-era equipment and doctrines to Nato standards and ensure full interoperability with the alliance," Mr Stoltenberg said. "Nato stands with you today, tomorrow and for as long as it takes."
He noted Thursday's announcement by Denmark and the Netherlands that they plan to provide Ukraine with at least another 14 refurbished Leopard 2 battle tanks from early 2024.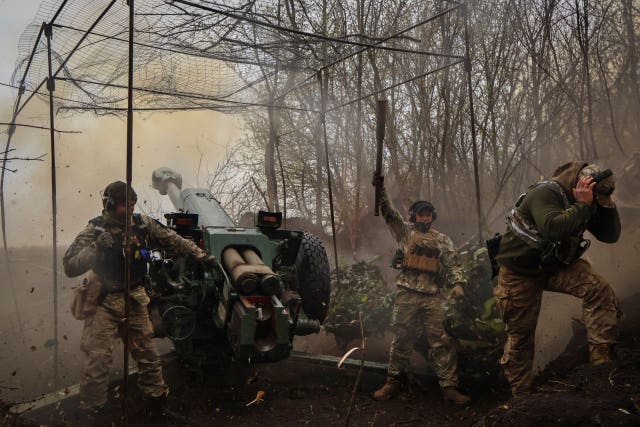 He added that he expected countries to "make new announcements of concrete military support to Ukraine" at a meeting in Germany on Friday.
The fighting in recent months has become a war of attrition, with neither side able to gain momentum. But Ukraine is expected to launch a counteroffensive in coming weeks, and it has recently received sophisticated weapons from its Western allies.
Nato has no official presence in Ukraine and provides only provides nonlethal support to Kyiv, but Mr Stoltenberg has been the strong voice of the alliance throughout the war.
A procession of international leaders has made the journey to Kyiv over the last year, and the former Norwegian prime minister is one of the last major Western figures to do so.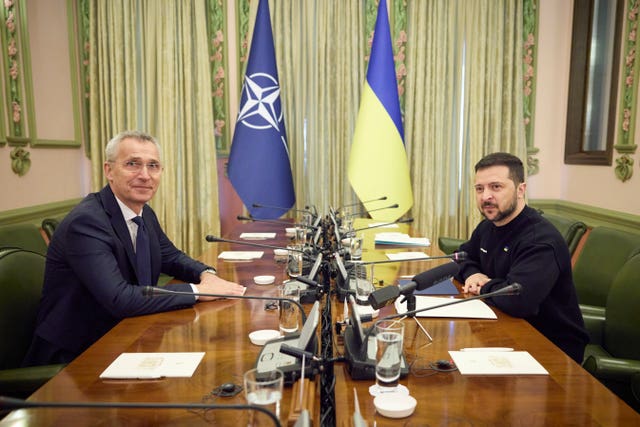 Nato, formed to counter the Soviet Union, has long feared being dragged into a wide war with nuclear-armed Russia, but as the West has moved from hesitantly providing helmets and uniforms to tanks, warplanes and advanced missile systems, high-level visits have become routine.
Kremlin spokesman Dmitry Peskov said on Thursday that preventing Ukraine from joining Nato remains one of the goals of what Moscow calls its "special military operation".
Speaking in a conference call with reporters, Peskov said that Ukraine's accession would pose a "serious, significant threat to our country, to our country's security".
Earlier this month, Finland joined the alliance, setting aside decades of neutrality in a historic realignment of Europe's post-Cold War security landscape.
While Nato says it poses no threat to Russia, the Nordic country's accession dealt a major political blow to Mr Putin.
Finland's membership doubles Russia's border with the world's biggest security alliance.
Neighbouring Sweden is expected to join in coming months, too, possibly by the time US president Joe Biden and his Nato counterparts meet in the Lithuanian capital Vilnius in July.
The alliance has focused on bolstering defences on its own territory to dissuade Mr Putin from attacking any member country.
Under Nato's collective security guarantee, an attack on one member country is considered to be an attack on them all.
On Friday, Stoltenberg will attend a Ukraine defence contact group meeting at Ramstein Air Base, Germany, with US defence secretary Lloyd Austin.