Sir Iain Livingstone's decision to retire as Scotland's top police officer before his contract ends has led to claims that he is leaving early, in part, because of warnings the burden on the force is "unsustainable" in its current form.
The officer, whose contract as chief constable ends in 2025, announced on Thursday that he will retire this summer, during a Scottish Police Authority (SPA) meeting at which it was warned there is "unprecedented" financial pressure on the public sector.
Jamie Greene, the Scottish Conservative justice spokesman, said it is "hard to avoid the conclusion that the chief constable's premature departure is linked to his stark warning that (the burden on the) Police Scotland is 'unsustainable' in its current form due to SNP underfunding".
Michelle Brewster, Unison's police staff branch secretary, said it is "not a surprise" he is "retiring earlier than expected".
She added: "Police services are facing unsustainable Scottish Government cuts, which will set policing back years."
Pauline McNeill, Scottish Labour's justice spokeswoman, said his resignation is a "worrying development which reflects a police force that is on the brink".
Sir Iain's report to the SPA meeting warned: "There are unprecedented financial pressures upon the public sector and upon individuals and families.
"Hard choices lie ahead to deliver effective policing within the revenue budget available and our capital funding remains significantly lower than that needed to progress improvements to our technology, buildings and vehicles."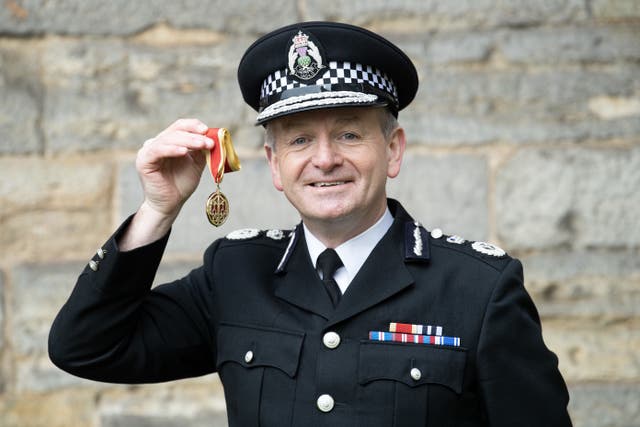 Another report presented to the meeting warned: "Police Scotland has often absorbed the impact of wider public sector financial challenges and is taking responsibility in situations where the police service is not the most appropriate service to respond.
"This position is unsustainable in the long-term and detracts from the ability to intervene effectively at the critical end of risk and harm."
Mr Greene said the report "could not be clearer about the impact of the nationalists' cuts to the policing budget, which has seen officer numbers fall to their lowest level since 2008".
The MSP said the Scottish Government must take note of Sir Iain's warnings, and that whoever replaces him "must be given the resources necessary by them to deliver the level of service our police officers want to offer and which the public expect".
In his retirement remarks, Sir Iain said: "Our single national service in Scotland represents major public sector reform and has delivered significant value to the public and best value to the public purse."